Paperless Office in San Antonio
In most cases, when businesses make the decision to "go digital," they hire a San Antonio professional document scanning service to convert all their hard-copy paper records into electronic versions. A professional, secure company and staff take the hassle out of your move to a paperless office.
Papers pile up, and more and more filing cabinets are added, and all of a sudden one of your offices is utilized specifically to store your files, creating a host of problems for businesses. The storage required for paper documents grows at a rate of 20-25% every year!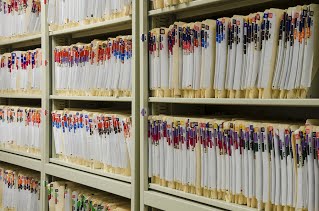 But converting to a San Antonio paperless office might not be as easy you might think. There's a chance you'll come across some issues. The cost of document scanning is usually minimal to the time and space you'll save your business year over year.
If you're interested in converting your documents and records to digital format, let our experts know! Fill out the form to the left, or give us a call at (210) 424-2340.
Does your Business Want to Go Paperless? Answer these Questions First
San Antonio Scanning and Imaging can index, scan, and post-production work to get your office digital quickly. We can even help you convert text via optical character recognition (OCR) software to allow you to edit the documents or redact private information to protect your customers.
Use this checklist to avoid some of the pitfalls associated with converting to a paperless office.
Are your confidential files and documents that contain personal or critical business information secure?

If you're concerned about data breaches, a document management system can be one of the most reliable systems for your office- if you take the proper precautions. Digitized documents are easier to track and monitor while paper documents can be duplicated easily.
Will your digitized documents be easier to use?

You can eliminate version control issues and utilize indexing to make documents easier to find and distribute. Generally, a digital system will be a vast improvement compared to your hard-copy filing system.
How much productivity do you lose with your current management system?

Digital documents eliminate the time it takes to find, copy, and re-file papers. A paperless office makes finding documents easier and optimizes the document flow in your office.
Is hiring a document scanning service provider in San Antonio an effective solution for your business?

There's a lot involved with making your existing system paperless, from required upgrades to make it functional with existing systems to ongoing costs to maintain your document scanning project. Don't forget the number of documents you're looking to convert- digitizing thousands of documents has a significant, but manageable cost.
If you have questions about going paperless or want more information, give us a call at (210) 424-2340 or fill out the form to the left.
Consider this- just one hard drive holds millions of pages of documents- which equates to hundreds of four-drawer file cabinets. Let us help your business make the transition today!
Ready to Make the Change to a Paperless Office? San Antonio Scanning and Imaging Can Help!
The paperless office is the ultimate dream for many San Antonio businesses. Digital documents are easier to access, eliminates the chances of older versions of documents getting out in the open, and optimizes document flow through your business. 95% of businesses still have their documents and company information laying on desks or filed away in cabinets.
If you're interested in converting your documents and records to digital format, let our experts know! Fill out the form to the right or give us a call at (210) 424-2340 today!